"Girls Trip: Cheaper Than Therapy." – Uknown
Like most, being stuck in the house for the past year has given me a new appreciation for "outside." Aside from navigating a pandemic and learning to coexist with my husband twenty-four-seven. Twenty-twenty brought about a significant life change, the birth of my son. With so many shifts taking place in my life at once, I needed a moment to step back and feel like myself again.
Typically for my birthday, my husband will take me out for an intimate dinner, which in all honesty, I eagerly look forward to. However, this year I decided to shake it up and do something a little different. I realize that in life, we often wait until significant milestones to celebrate ourselves; however, I've grown to appreciate each new day, and I believe we deserve to celebrate each year as the precious gift that it is.
My girlfriends have the ability to bring out the side of me that comes out when there is no judgment, just laughter and good times. The last girl's trip my friend and I took together was in 2017 for my bachelorette, so we were well overdue for a vacation.
For the past few months, I noticed that any and everybody on my Instagram feed was heading to Tulum, Mexico. The beaches looked pristine, the food looked delicious, and the entertainment seemed endless. I knew that this was where I needed to ring in chapter twenty-seven.
Our Stay: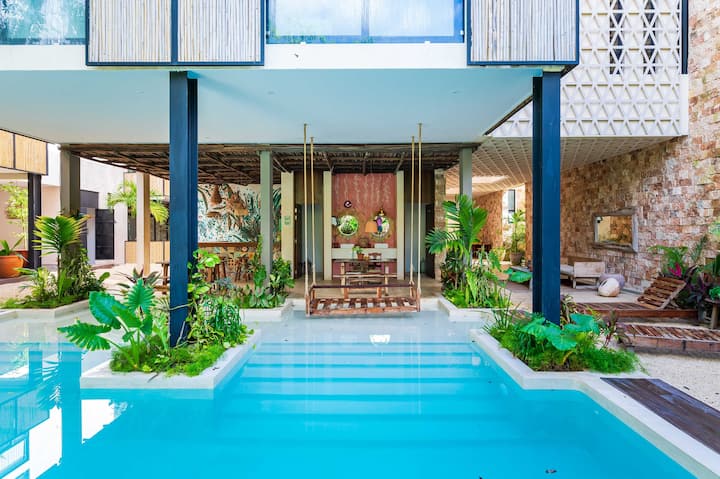 Our trip was a short 3-day stay, which was just enough time for me to get a little break without breaking down from separation anxiety (#newmommyproblems). Typically when I travel out of the country, I prefer to stay at a resort. However, I have heard great things about staying with an Airbnb, which is usually a cheaper, more efficient way to travel, especially with large groups.
Tulum is an up-and-coming tourist hotspot. The city has built a lot of residential luxury apartments, which are rented out to tourists. We decided to stay at the Marquez Tulum. This boho-chic apartment came with two bedrooms and three bathrooms. Each room had a full bathroom and closet area. The apartment also included a balcony, air conditioning, and wifi. Downstairs, the common area offered a beautiful lounge area with two pools. The apartment was a 5 minutes walk from the local convenient store and a 10-minute drive from the beach.
Girl's Trip Itenerary :
My biggest pet peeve about traveling is figuring out what to do once we arrive. Luckily, every group has a designated party planner, and for us, that girl is Tiffany. She created an itinerary that had everything from our dinner reservations to scheduled photoshoots. Without a doubt, she proved to be the real MVP of the trip.
Check out our itinerary below:
Things To Do in Tulum:
Tulum reminded me a lot of Las Vegas. There is so much to see and do, and most of their attractions are located on one strip. There was no way we could explore all of Tulum in such a short visit; however, we were still able to get a lot done. Below are a few activities and spots you can visit on your next trip to Tulum.
Scenic Views:
Tulum is home to a lot of cute "photo-op" spots. If you take a stroll down the strip, you'll pass a lot of places that make you want to stop and flick it up. We took a trip to Sfer Ik, which is an architectural museum located right on the strip. There is a $10 entry fee, which is well worth it. All you need is about 15 minutes, and you will be guaranteed a "money shot." If your girlfriends are anything like mine, then this is a definite to-do on your next trip!
Tulum Day party:
Like Vegas, Tulum is home to many great day parties. Many of the beach clubs also serve as day parties. My girls and I came together and got a cabana at Taboo for $910, which also included food and drinks. We had such a great experience. If you plan on visiting Tulum, I recommend spending the day at one of their beach clubs; a few other great ones to try out are Tantra and Bagatelle.
Nightlife
Tulum is home to many luxury-chic beach clubs that serve as day parties during the day and popping restaurants at night. I recommend getting dressed in something cute and checking out some of the restaurants located on the strip. Two of the restaurants we tried out were Bak and Tantra.
P.S. Be sure to bring your dancing shoes
Adventurous activities:
Mexico is rich in history and culture. Aside from exploring their beautiful beaches. You can explore the ancient Mayan ruins, zipline through the jungle, or take a dive in one of the many underwater caves better known as cenotes.
Pro's:
Budget-Friendly: If you're looking for an affordable vacation, Tulum is your destination. If you don't want to spend most of your budget on food, you can enjoy $2 street tacos or dine at the local mom-and-pop restaurants, which are both authentic and delicious. The excursion are also very affordable. Whether you're planning to go site seeing or something adventurous, you can enjoy Tulum on a friendly budget.
Endless activities: The city is an up-and-coming tourist spot with lots to see and do. Everyone in the city is so accommodating and eager to ensure you have a great time. With most of Tulum's main attractions are located on one strip, it makes it easy to explore.
Cons:
Transportation: Although it was only a five-to-ten-minute drive from the main attractions, one of the cons from our girls trip was staying at an Airbnb versus a resort on the strip. Because we traveled in such a large group, sometimes we ended up having to request multiple taxis, multiple times a day, which inevitably added up. Staying on the strip would elivate the need for transportation.
Currency: By far, the biggest con of our girl's trip to Tulum was dealing with the currency. When we first arrived, we exchanged our American dollars for Pesos at the airport. We thought this would make transations easier and a great way to ensure we stuck to our budget. However, it only made our trip more compliated. Most restaurant were unable to split our checks and we had difficutlies splitting cab fares. We were forced to split the tranacation ourselves, which became increasingly diffcult toward the end of the trip when half of the group only had american currancy left, while the other half still had pesos. Trying to figure out the conversions was a little daunting, especially when traveling with a large group.
Overall, our girl's trip to Tulum was the perfect little getaway. I couldn't think of a better way to spend my 27th birthday. I am grateful to friends who will be willing to spend their time and money to celebrate me. I recommend you place Tulum on your to-do list.
Where to next??
Have you been to Tulum? If so, let me know in the comments below, and be sure to include any places you recommend!