" There is no sincerer love than the love of food. " – George Bernard Shaw
I've always believed in the importance of meeting new people, exploring new places, and trying new things. However, a wise man once said, "if it ain't broke, don't fix it." A couple of Saturdays ago, I texted Jhaneal that I wanted to do brunch. It was my birthday weekend, and Jovan was working, so I figured I would maximize my opportunity and indulge in an afternoon with my BFF. When it comes to brunch, Shooters is my go-to spot. I have been countless times, and they never disappoint. While I'm a huge fan of their brunch menu, I can not deny that their lunch and dinner options are equally as good. I rarely have no complaints about a restaurant, but Shooters has become an exception to the rule.
Although Shooters is my spot, Jhaneal proposed that we give somewhere else a try. Since starting my blog, I've become more open to trying new places for content sake, so I was 100% on board for wherever she had in mind. Jhaneal saw an ad for a particular restaurant with a special on $5 bottomless mimosas, which we honestly should have known was a ploy to get us through the door. Luckily, I don't recall the restaurant's name, and thank God, because I have nothing positive to say. To make a long story short- it was a huge flop. Before we could even take one sip of the water offered to us by the waitress, we gathered our bags and headed straight to the door. At this point, we only had one destination in mind; a place we knew we could go that had exactly what we wanted, old reliable- Shooters Waterfront.
Shooters Waterfront:  3033 NE 32nd Ave, Fort Lauderdale, FL 33308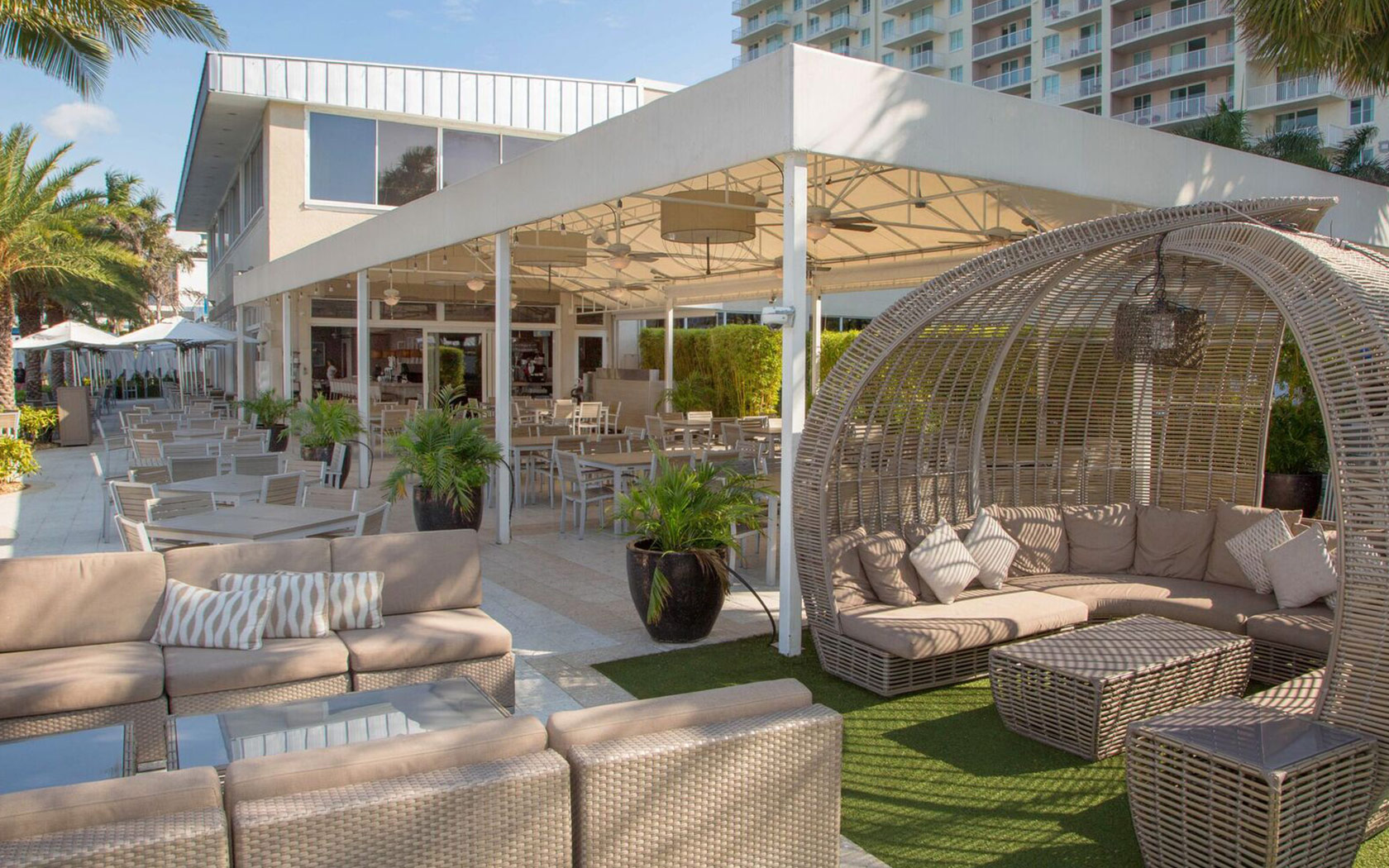 Ambiance: 5 out of 5
Shooters Waterfront is a South Florida oasis located on the Ft. Lauderdale Intracoastal Waterway. The restaurant offers both indoor and outdoor seating, with outside patio dining overlooking the bay. On a typical South Florida day, the sun can be unbearable, so I usually prefer to be seated indoors at restaurants. However, the outside vibe that Shooters offers is too beautiful to turn down. The breezy furniture and patio decor gives you a pleasant vacation vibe right at home. The indoor seating is just as nice, with modern decor and windows giving you an outside view; you can't go wrong either way.
My favorite part of Shooters is that it's a waterfront restaurant; yachts and small boats can pull right up to the restaurant, park their boats, and enjoy a meal. It's a unique experience to dine while luxurious yachts pull up right next to your table. Shooters is also one of Ft. Lauderdale's Water Taxi service stops. For those of you who are not familiar with that is; Water Taxi's are exactly what it sounds like – taxi's in the water. It's a boat service that allows you to travel across South Florida while making various stops along the way. While on the taxi, you can enjoy some Ft. Lauderdale sightseeing, from the mansions in Las Olas µto the high-rise condos of Hallandale Beach. If you want to leave your car with the valet (which is $5 for the day) and hop on a taxi to the beach, you can! One Saturday, Jovan and I spontaneously decided to catch a ride on the taxi after brunch. The day was beautiful, which made the experience even better. We got to see the homes of some of the rich and famous, as well as take a quick detour to Fort. Lauderdale Beach. I highly recommend this activity for anyone wanting to enjoy a great afternoon in South Florida. I have included the information for the water taxi below so that you can plan your trip accordingly. Check out their website for details on trip times and routes! www.watertaxi.com 
---
Adult All Day (Ages 12-64)
$28.00
$18.00
Senior/Military All Day (Ages 65+)
$23.00
Child All Day (Ages 5-11)
Menu 5 out of 5: Average meal ranges from $12-$20 
Firstly, I can go on and on about how delicious the food at Shooters is. I have had everything from their steak and eggs, mango shrimp salad,  burgers, wings, and french toast, to name a few. Not only is the food amazing, but the prices are even better. For the portions and quality, you can't beat the price. The food choices are all so good it can be hard to choose from the menu. They have such a vast variety to choose from, so no choice is ever a bad one. However, if you're like me and have a hard time deciding what you want to eat, you can enjoy a little bit of everything from their unlimited buffet menu below:
Brunch Buffet
Muffins
Croissants
Bagels
Pastries
Vegetable Frittata
Create Your Own Waffles
Omelet Station
Salad Bar
Sushi Rolls
Scrambled Eggs
Breakfast Potatoes
Sautéed Vegetables
Sausage Links
Bacon
Dessert
Fruit Salad
Prime Rib
As I've repeated time and time, I love dressing up for brunch. However, Shooters has such a relaxed atmosphere that there's no pressure to come dressed "cute." However, there is always an exception to the rule. I have seen many people host their birthday brunches/dinners at Shooters, and of course, they came dressed to impress, wearing heels, two-piece co-ordinate sets, and cute rompers. Nonetheless, I have also seen people wearing shorts with tank tops as well. The choice is yours when it comes to how you choose to dress at Shooters. As for me, I always opt to come "summer cute," meaning casually dressed in sandal heels or wedges. I have included a few of my looks from my various visits to Shooters below.
Overall Experience: 5 out of 5
For a perfect relaxed brunch experience, I recommend Shooters Waterfront. The atmosphere is great, and the food is even better. The only negative critique I have is the South Florida heat, which is outside of their control. On the weekends, they also have live music out by the water, which gives off the perfect South Florida vibe. You can easily spend 4 hours at brunch, not even realizing that so much time has passed. If you do get the opportunity to try the water taxi, it is an experience worth having. I genuinely have nothing negative to say about Shooters; it is worth every penny.
Let me know if you give it a try, and as always – enjoy!